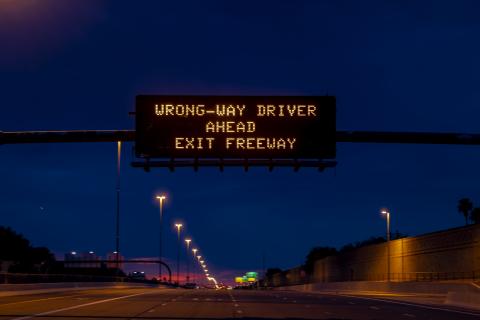 From 2004 – 2014, 91 people were killed in wrong-way crashes across Arizona. In the two years 2015 and 2016, the number of serious injuries and fatalities due to wrong-way drivers more than doubled, from 16 to 37, and amplified media attention brought new public concern to the issue. The crashes were following patterns – 75 percent were occurring at night, most collisions occurred in left lanes between the hours of 10 p.m. and 3 a.m., and about 75 percent of the drivers were impaired. Highway safety officials realized more had to be done to reduce the risk associated with wrong-way drivers.
In 2017, ADOT installed a first-in-the-nation wrong-way driving (WWD) detection system using thermal camera technology. All the hardware used for the pilot system is commercially available, off-the-shelf technology that has been used for decades in the transportation industry. The WWD system takes these time-proven components and assembles them in a new and innovative way.
Installed along a 15-mile stretch of I-17 in central Phoenix, the $4 million system consists of 90 FLIR thermal cameras positioned throughout the corridor to detect wrong-way vehicles, illuminated "WRONG WAY" signs for enhanced notification to the wrong-way driver, geofenced alerts of incoming danger to right-way drivers through overhead boards and the ADOT Alerts app, and immediate notification to law enforcement and traffic operators in ADOT's Traffic Operations Center (TOC). Previously, wrong-way driver alerts relied on 911 calls, which are often contradictory and unreliable. The data now show law enforcement being notified within 5 seconds of the system detecting a wrong-way driver.
Since January 2018, there have been 10 wrong-way vehicle entries onto the mainline of I-17. Law enforcement was alerted immediately to the location on I-17 and within minutes arrived in the area. Eighty-six wrong-way drivers have either self-corrected before entering the freeway or used the frontage road, and have not caused crashes. The system is also compiling data on WWD patterns to inform future engineering design developments. Interest in the system has been high, and ADOT has hosted traffic engineers from California, Texas, Rhode Island, North Carolina, Florida, Utah and Colorado who wanted to see it in action. ADOT also supported public engagement through its "Drive Aware, Get There" public outreach campaign to support the launch of the WWD detection system and educate drivers about minimizing risk.
"This technology so far has shown great promise," said Brent Cain, who leads the Arizona Department of Transportation's Transportation Systems Management and Operations division. "With a commitment to helping every driver get home safely, our entire team has worked tirelessly to generate and research ideas and then design, implement and test this system."
Agency: Arizona Department of Transportation (ADOT)
Project Contact: Brent Cain, Division Director
Email: bcain@azdot.gov
Phone: (602) 712-4728