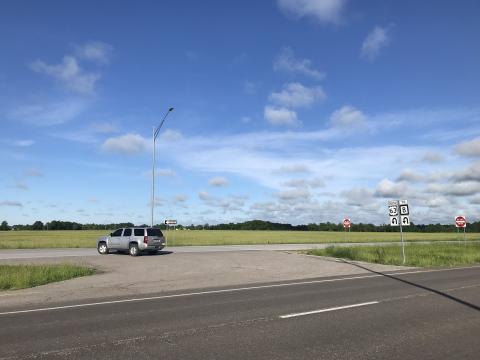 In 2012, three at-grade intersections along US 63 – a four-lane expressway in central Missouri – were identified for improvements by a multi-disciplinary team of engineers, technicians, law enforcement officers, and others who were performing Road Safety Assessments (RSA) on the route between Columbia, MO and the Iowa state border. The three intersections to be improved were those with the highest crash severity of the 11 initially studied: at Hinton Road north of Columbia in Boone County, Routes B and P near Clark in Randolph County, and Route M near Atlanta in Macon County. Among the numerous severe-injury crashes at these locations were four fatal collisions that took place prior to the sites being upgraded.
To address the problem, project teams in the Missouri Department of Transportation's (MoDOT) Central and Northeast Districts developed and implemented a solution to improve safety: following extensive public outreach, the team proposed construction of "Median U-Turn" intersections at all three locations.
Median U-Turn intersections eliminate side road crossing and side road left turn movements at intersections on four-lane expressways. The intersections require side road traffic to turn right, merge into oncoming traffic, then merge to a median deceleration and U-turn movement to cross or make what is traditionally a left turn onto the expressway. The concept is intended to eliminate right-angle crashes, which are typically more severe and more often lead to fatal or serious injuries than other crash types. This design had previously been used in Missouri with overall success, but was unfamiliar to drivers in the North Missouri region. An extensive public involvement campaign educated stakeholders, including business leaders, city and county officials, statewide elected officials, and the general public, on the need for improvements and the benefits of the Median U-Turn concept.
The three intersection projects were awarded in combination to a single contractor in April 2014 and constructed through that summer and fall. Award costs for each intersection were between $650,000 and $1.43 million – substantially lower than the estimated $5,000,000 - $7,000,000 that traditional interchange improvements would have been at each location.
Following construction, the three intersections have been monitored for performance, and results have been overwhelmingly positive. Overall crashes were reduced by 50 percent, and fatal and serious-injury crashes were completely eliminated.
"Safety is our highest value at MoDOT," said Patrick McKenna, Missouri Department of Transportation Director. "This value is best expressed by improving safety on our roadways through projects like our improvements on US Route 63 that we know have prevented severe injuries or fatalities for Missourians."
Agency: Missouri Department of Transportation
Project Contact: Paula Gough, District Engineer
Email: paula.gough@modot.mo.gov
Phone: (573) 248-2490
Additional Information