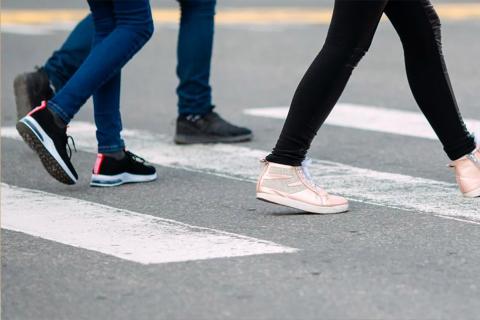 The Roadway Safety Foundation has partnered with the Federal Highway Administration (FHWA) Office of Safety to support the Safe Transportation for Every Pedestrian (STEP) program. Pedestrian fatalities and serious injuries have risen sharply in recent years, and STEP aims to reverse this unacceptable trend by speeding the deployment of proven crash countermeasures and safety treatments known to save lives.
Learn about three important STEP technologies below, and be sure to visit the FHWA Office of Safety STEP page for complete information about all of the countermeasures being promoted.
Pedestrian Hybrid Beacons
Pedestrian Hybrid Beacons (PHBs) are similar to traffic lights at intersections, but they have a unique color and flash pattern and create safer opportunities for pedestrians to cross at non-intersection locations. Instead of the Red, Yellow, Green sequence you're familiar with, the PHB follows this cycle:
Flashing Yellow: Use caution! A pedestrian has activated the beacon and will begin crossing soon.
Solid Yellow: Similar to a traditional yellow traffic light -- you must begin to slow and stop.
Solid Red: Similar to a traditional red traffic light -- you must STOP and REMAIN STOPPED.
Flashing Red: The cycle is nearing completion and pedestrians are almost safely across. Proceed ONLY when the crosswalk has cleared.
Signal Dark/Off: Unlike a traditional traffic light, the PHB will remain dark/off when not in use, allowing traffic to proceed uninterrupted until it begins flashing yellow again.
According to FHWA, studies have shown PHBs can result in a 15 percent reduction in serious injury and fatal crashes, and up to a 55 percent reduction in all pedestrian crashes. Click here for a visual depiction of the PHB cycle, and be sure to check out our instructional video below!
Rectangular Rapid Flashing Beacons (RRFBs)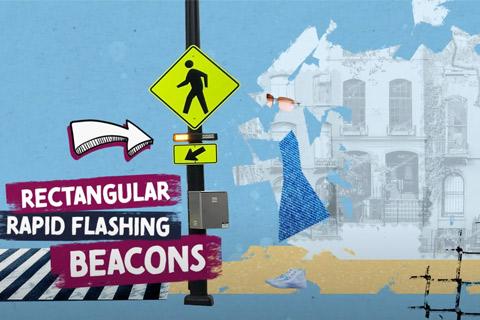 Rectangular Rapid Flashing Beacons (RRFBs) are a simple addition that can be made to a traditional pedestrian warning sign to draw attention to a crossing and improve driver yielding. According to FHWA, RRFBs can reduce pedestrian crashes by nearly 50 percent, and are especially effective at multilane crossings with speed limits below 40 MPH. All pedestrians have to do is push a button to activate the flashing amber LEDs and wait for a safe opportunity to cross.
Check out our instructional video below to learn more!
Leading Pedestrian Intervals (LPIs)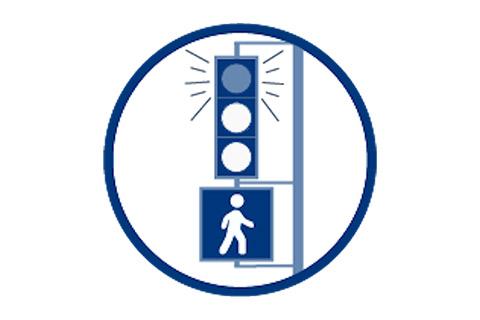 Leading Pedestrian Intervals, or LPIs, aren't a standalone technology so much as a novel adjustment in signal timing that enhances pedestrian safety at signalized intersections. LPIs give pedestrians a 3- to 7-second head start before any vehicles get a green light. This allows pedestrians to establish themselves in the crosswalk, thereby enhancing their visibility and giving them more time to get across safely. LPIs have been shown to reduce pedestrian-vehicle crashes at intersections by 13 percent and can be done almost immediately at very low cost anywhere there is a signalized intersection with pedestrian countdowns. This makes LPIs a great choice for just about any community looking to make an immediate improvement in pedestrian safety.