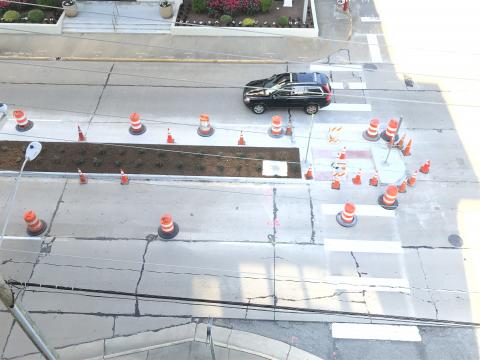 Pedestrian safety is a major concern in Virginia. Between 2012 and 2016, over 450 pedestrians died and over 8,000 were injured while walking along or across Virginia's public roads. Over 90 percent of Virginia's pedestrian crashes occur when the pedestrian is crossing the street. More than half (62% of crashes) occur at mid-block pedestrian crossings.
In the spring of 2018, the Virginia Department of Transportation (VDOT) released its first statewide Pedestrian Safety Action Plan (PSAP), a national model focusing on sites where safety countermeasures should be considered to improve pedestrian safety. The PSAP process, led by VDOT and a stakeholder team, evaluated all public road segments in Virginia to determine locations with a history of, or potential for, pedestrian safety concerns. This evaluation demonstrated the interaction between the built environment and pedestrian safety.
During the summer of 2018, VDOT hosted a series of workshops across the Commonwealth to walk VDOT, local agency staff and contractors through the final report and interactive website and mapping tool, introducing them to the priority pedestrian corridors and crash clusters in their respective areas.
The educational workshops fostered partnerships with local agencies by quickly identifying areas where pedestrian safety may need attention and resource investment. At the workshops, VDOT announced $8 million dollars in initial funding for infrastructure projects at the locations identified in the plan. The funding was available for pedestrian crossing improvements using low-cost, high-benefit pedestrian safety countermeasures. To be eligible for the funding, proposed projects had to target road locations on a priority pedestrian corridor or in a crash cluster identified by the PSAP. VDOT prioritized projects that could be completed quickly, by 2019 or early 2020.
Fifty-nine candidate PSAP projects valued at over $43 million were submitted to VDOT within weeks of the funding announcement. After evaluating submittals, in November 2018, VDOT announced the award of the $8 million to 25 projects. VDOT will continue to monitor projects that received funding. The team expects a reduction in pedestrian crashes at locations where PSAP countermeasures are installed.
"Safety is always VDOT's number one priority – that includes all people who travel our roadways, whether by vehicle or on foot," said Stephen Brich, PE, Commissioner of Highways for VDOT. "Our Pedestrian Safety Action Plan is activating a strategy for safer travel by identifying locations where pedestrian safety is at risk and then funding safety improvements at those locations based on data-driven safety analysis. Furthermore, these projects are set into motion within months of identification. Pedestrian crashes and fatalities have increased over the past several years, and it is imperative that we do all we can to stop that trend as soon as possible."

Agency: Virginia Department of Transportation (VDOT)
Project Contact: Mark A. Cole,
State Highway Safety Engineer
Email: mark.cole@vdot.virginia.gov
Phone: (804) 786-4196