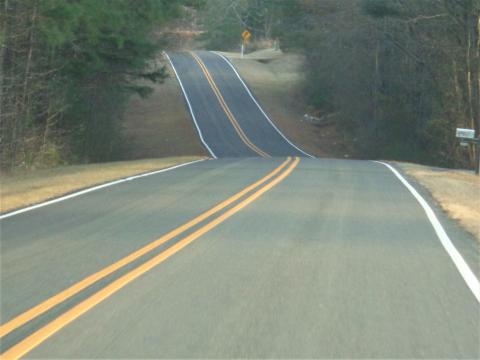 Lane departure crashes are one of the most over-represented fatal and serious injury crash types on North Carolina's roadways. They comprise 55 percent of fatal and serious injury crashes in the state, with almost 14,000 such crashes occurring from 2015 to 2019. With over 80,000 miles of roadway under its jurisdiction, the North Carolina Department of Transportation (NCDOT) is responsible for one of the nation's largest highway systems, and is proactively looking for low-cost and high-return safety solutions to prevent lane departure crashes and drive down fatal and serious injury trends.
To this end, NCDOT undertook an effort to investigate, install, and evaluate a promising low-cost solution on rural, two-lane roadways: long-life pavement markings. Designed to provide improved roadway delineation and motorist guidance, these markings are available in a variety of widths, media, and materials, so NCDOT sought to determine the safety return, longevity/durability, and cost-effectiveness implications of each type.
All types of long-life markings demonstrated crash reductions: Across all sites treated with the countermeasure (over 400 miles of roadway), NCDOT found a statistically significant 13 percent reduction in lane departure crashes. The best safety results, however, were seen with wider, 6-inch markings with standard beads, which were found to reduce lane departure crashes by statistically significant 19 percent. Additionally, the long-life markings are expected to provide a minimum of five to seven years or more of adequate retroreflectivity and pavement delineation, compared with a maximum of two years or so from standard markings. Though the benefit cost ratio (BCR) varies depending on the specific type of marking used, potential BCRs up to 60:1 were estimated.
According to State Traffic Engineer J. Kevin Lacy, "Although long-life markings cost more initially … [i]n the long term, the overall cost for marking a roadway is less when utilizing a long-life marking. Reducing the need to replace markings as frequently decreases the repeated exposure to pavement marking crews operating in the road. This provides another safety benefit in addition to driver safety."
The significant safety results inspired a statewide safety initiative, currently underway, which is investing millions of dollars to systemically apply long-life markings to thousands of miles of rural two-lane roadways in North Carolina.
Agency: North Carolina Department of Transportation (NCDOT)
Project Contact: Brian Mayhew, State Traffic Safety Engineer
Email: bmayhew@ncdot.gov
Additional Information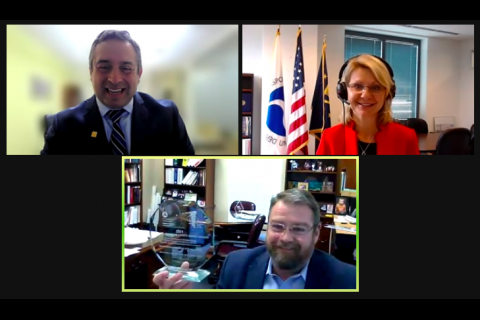 Roadway Safety Foundation Executive Director Greg Cohen presented the Award to the North Carolina DOT during the virtual ceremony October 6.