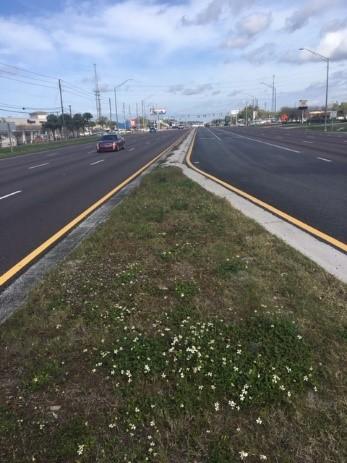 The traditional design/bid/build process that is typical of transportation projects often takes approximately 36 months to go from "concept to concrete." The Design-Build Push Button (DBPB) contract, developed by a team of Florida Department of Transportation (FDOT) employees in the District office in the Tampa Bay Region, is an innovative program designed to accelerate the process of constructing traffic safety improvements.
The innovative DBPB contractual approach addressed the inherent inefficiencies of the typical contractual process for these traffic safety improvement projects by combining the efficiencies of design-build contracts (in which designer is working in close coordination with the construction team) with the time savings of push-button contracts (in which pre-selected push-button contractor is able to quickly get to work since all of the contractual paperwork is already in place). In the design-build scenario, the designer and the construction contractor are working together on the same team, so there are no misunderstandings about the what and the how of the project. The project also gets built faster, as construction activities can begin while some parts of the plan are still being finalized. In the push-button scenario, significant time savings are realized from having pre-approved contractors on stand-by who can quickly be mobilized to do certain types of work.
The DBPB program is a partnership of FDOT and the Federal Highway Administration's (FHWA) Florida Division, and has been highly effective in achieving the goal of quickly getting safety improvements implemented. In the first year of the program (2017-2018), it is estimated that over 55 crashes were avoided by reducing safety improvement implementation time from three years to 310 days. Using FDOT's estimate of the societal costs of crashes involving injury to be an average of $152,866 per crash, the total estimated societal benefit realized in the first year of the DBPB contract is $8,407,630. Given the success of this first-of-its-kind contractual arrangement designed specifically to accelerate construction of safety improvements in order to move toward zero deaths, FDOT will be expanding the use of DBPB throughout the state, and Florida's FHWA Division Office has promoted it to other Divisions as well.
Agency: Florida Department of Transportation (FDOT)
Project Contact: Matt Nance,
Safety Studies Engineer
Email: matthew.nance@dot.state.fl.us
Phone: (813) 975-6747