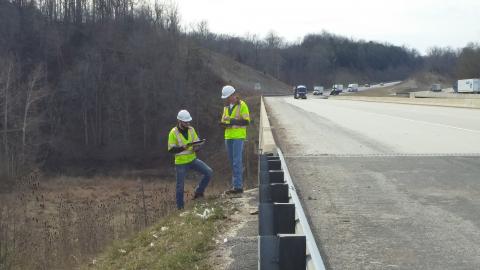 In Virginia, approximately two thirds of fatalities are the result of roadway departure crashes. Various national research studies indicate that having appropriate guardrail can produce a crash reduction factor of up to 40 percent for roadway departure crashes. Therefore, the repair, replacement, and/or upgrade of guardrail systems is critical to the safety of the traveling public.
The Virginia Department of Transportation (VDOT) maintains the third largest state-maintained highway system and one of the largest guardrail networks in the nation, with approximately 7,400 miles of guardrail and 150,000 terminals. Like many other states, VDOT faces many challenges managing this very complicated program, including aging assets, lack of inventory and information on condition, intense regulatory and media interest in guardrail safety and performance, changing guardrail standards, and limited funding for guardrail repair and upgrades.
To meet these challenges, in 2016, VDOT established a new data- and risk-based strategic guardrail management program and leveraged data and technology to drive institutional changes in policy, inventory, process, and supporting management tools. For instance, leveraging technology, VDOT collected a complete statewide guardrail terminal inventory with detailed manufacturer and product information within a few months and at a nominal cost. A new Guardrail Tracker Tool allows data collection and communication via a single, agency-wide, cloud-based GIS platform. It also supports activities across the guardrail lifecycle, from initial warrant assessment, design, project delivery, maintenance, and eventual upgrade and/or removal.
VDOT also moved from the traditional paving corridor-driven investment approach and now prioritizes investment across the full network through an innovative framework that integrates crash and roadway geometry, guardrail condition, and paving project data. This risk- and performance-based approach allows VDOT to identify and improve guardrail assets with the highest safety benefits, maximizing limited resources. Other program highlights also include real-time performance measures through Business Intelligence (BI) tools, mobile field data collection, and a robust knowledge management program.
Through these innovations, VDOT has measurably improved life-cycle management of guardrail and its return on investments, better protecting the safety of the traveling public in Virginia by improving hundreds of the lowest-functioning guardrail terminals at the highest-risk locations across the state, including the top 10th percentile Interstate crash locations.
Agency: Virginia Department of Transportation (VDOT)
Project Contact: Vanloan Nguyen,
Assistant State Traffic Engineer
Email: vanloan.nguyen@dot.virginia.gov
Phone: (804) 786-2918