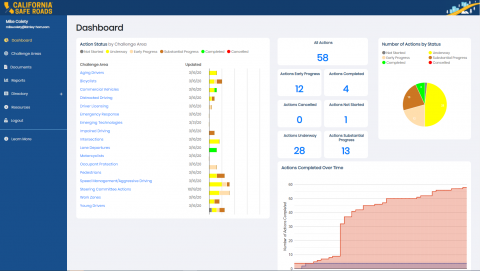 From 2010 through 2018, California experienced an unacceptable trend of increases in fatalities and serious injuries on its roadways. Every year, about 3,600 individuals die on California's roadways, an average of 10 deaths per day. To reverse this trend, state transportation leaders recognized that a bolder and more focused approach was necessary, and capitalized on the opportunity to update the state's Strategic Highway Safety Plan (SHSP) and its implementation to align it with this aggressive recommitment to safety.
This important change, referred to as "The Pivot," includes four new Guiding Principles (Integrate Equity, Implement a Safe System Approach, Double Down on What Works, and Accelerate Advanced Technology), focuses on High Priority Challenge Areas, expands the SHSP committee membership to reflect the diversity of the state and promote inclusivity, and incorporates innovative tools into the planning and implementation process. Crucially, crash statistics will be evaluated against SHSP implementation on an annual basis to ensure progress using a newly-developed Action Tracking Tool. Through this process, Caltrans incorporates proven countermeasures and leading-edge safety planning to evolve with the changing environment, and maximize statewide efforts to eliminate fatalities and serious injuries.
Caltrans utilizes existing resources to inform and develop new tools to provide critical information to partners and stakeholders that inform their decisions when creating plans, programs, policies, and solutions for a statewide impact. California's traffic safety professionals now have direct access to crash data to support the data-driven implementation of the SHSP and other safety programs. Ultimately, the SHSP is creating an environment where data drives informed policies at all levels of government, and the five key components will put California on the path to zero fatalities and serious injuries by 2050. The SHSP is currently focused on institutionalizing the Guiding Principles of Integrate Equity and Implement a Safe System Approach into all aspects of the SHSP. There is an ongoing concerted effort to integrate equity into all aspects of the plan to address institutional and systemic biases. The Safe System Approach places additional responsibility on agencies to account for human error within the design and operations of roadways.
Agency: California Department of Transportation (Caltrans)
Project Contact: Rachel Carpenter, P.E., Chief Safety Officer
Email: rachel.carpenter@dot.ca.gov
Additional Information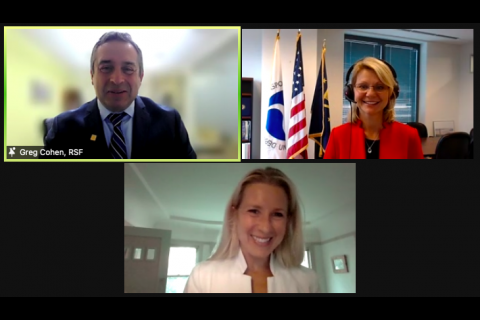 RSF Executive Director Greg Cohen presented Caltrans with its Award during the virtual ceremony October 6th.