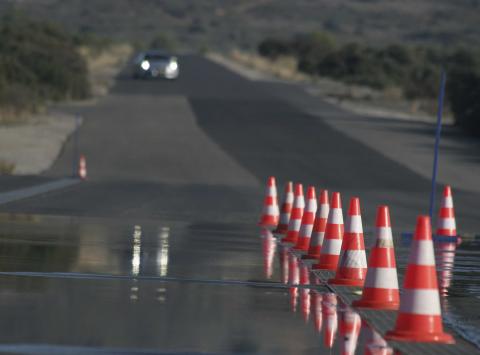 If you've ever seen a public service announcement urging sober driving, read a news article about a traffic crash involving a group of teens, or perused a research report on distracted motorists, chances are you've come across a variety of terms used almost interchangeably. Phrases like highway safety, road safety, traffic safety, and roadway safety are often used casually to refer to a broad range of efforts to save lives on the nation's (and world's) roads.
But did you know that they're not actually all synonymous?
As you can see from our name, the Roadway Safety Foundation (RSF) is primarily interested in this last area. "Roadway safety" refers to the portion of overall highway safety that is determined by the physical features and operating conditions of the road environment itself. Things like intersection geometry, traffic signs and signals, guardrails, winter snow removal, and highway-railroad crossing design all fall under this umbrella.

At the Federal level, the U.S. Department of Transportation's Federal Highway Administration (FHWA), with whom RSF has a cooperative agreement to promote roadway safety improvements across the country, is primarily responsible for national leadership in this area. (Another DOT agency, the National Highway Traffic Safety Administration, is responsible for the other two main areas of highway safety: behavioral, which includes things like distracted driving; and vehicle, which includes auto design standards and safety recalls.)

Here at RSF, our mission is to promote improvements to the nation's road network, disseminate information and educational materials to transportation officials and communities across the country, facilitate best-practice sharing, and educate road users about how to safely negotiate the roadway environment. With more than half of traffic deaths occurring in crashes in which the condition of the road itself is a contributing factor, we clearly have our work cut out for us.

We're launching this blog as a tool for communicating timely information about key roadway safety issues, illustrating the integral ways in which roadway safety relates to the other aspects of highway safety, and providing tips and educational information for road users. Whether you're a transportation official interested in best practices, a community leader who wants to make a difference in your hometown's safety, or a general reader looking to become a safer road user, we hope you'll return to this blog again and again, and share it with others who might be interested. After all, it does indeed take a village to ensure that "roadway safety is no accident."