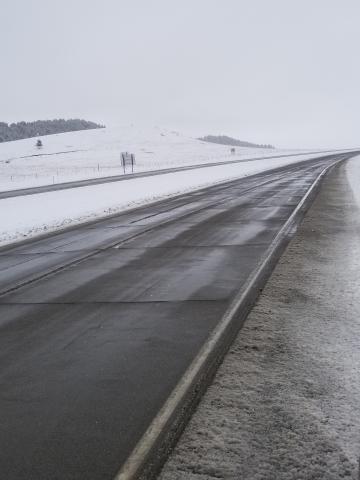 High Friction Surface Treatment (HFST) has been used widely across the US to treat road departure crashes at horizontal curves with wet road conditions as a contributing factor. However, South Dakota has five times more roadway departure crashes involving winter road conditions than wet road conditions, and discovered that HFST had not been tested as a treatment for this crash type. Moreover, one third of roadway departure crashes occur on horizontal curves, even though horizontal curves account for less than 10 percent of the system.
Due to the over-representation of road departure crashes at horizontal curves with winter road conditions as a contributing factor, it was decided to use HFST in an innovative way to address this safety need. In 2014, South Dakota completed a test project using HFST at four horizontal curves with dramatic results. A three year before and after crash analysis for the targeted crash type showed an 80 percent crash reduction; if the Winter Severity Index is applied, the total crash reduction is 77 percent.
Given the success of the project, in 2017 SDDOT expanded it to 15 locations in the Black Hills area of the state. For the five years prior to the project, these 15 sites averaged a total of 21 winter road condition crashes, including 7 injury/fatal crashes, per year. Through two winter seasons after the project, there were nine crashes and one possible injury, for a total crash reduction of 78 percent and a benefit-cost ratio of the project of 12:1.
Ultimately, the innovative use of HFST in South Dakota is anticipated to save $18M in societal crash costs – a tremendous benefit to the residents of South Dakota and those visiting or just passing through.
"This project has demonstrated that the use of High Friction Surface Treatments are a great tool for enhancing our facilities with the goal of reducing crashes and fatalities," said Joel Jundt, Deputy Secretary of SDDOT. "We were very excited with the results of the project and will be using the treatment on other locations in the state where appropriate. I applaud our employees' efforts in finding innovations that are cost effective and strive to meet our goal of providing 'Better lives through better transportation.'"
Agency: South Dakota Department of Transportation (SDDOT)
Project Contacts: Andy Vandel,
Highway Safety Engineer
Email: andy.vandel@state.sd.us
Phone: (605) 773-4421
Additional Information