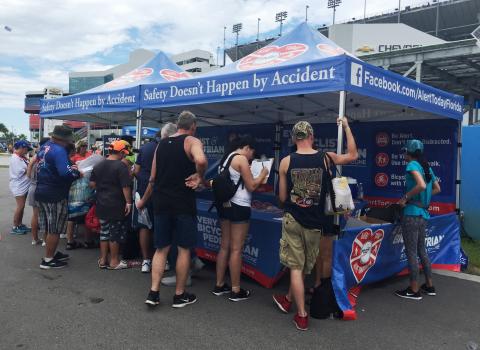 Based on crash data from the National Highway Traffic Safety Administration (NHTSA), Florida had the highest pedestrian and bicyclist fatality rates in the US from 2008–2011. Pedestrian and bicycle safety is a major concern and has been elevated to one of the highest priorities in Florida.
To develop and implement effective and sustainable solutions to improve pedestrian and bicycle safety in Florida, the Florida Department of Transportation (FDOT) developed Florida's Bicycle/Pedestrian Focused Initiative in 2011 to lead all efforts to improve pedestrian and bicycle safety in the state. The campaign was branded "Alert Today Florida" in 2012. In 2013, FDOT developed Florida's Pedestrian and Bicycle Strategic Safety Plan (PBSSP) and formed the Florida Pedestrian and Bicycle Safety Coalition to vigorously implement the plan. Alert Today Florida adopted a data-driven approach to use available resources to achieve the most tangible results, focusing on engineering, education, enforcement, and emergency medical services, while prioritizing areas with the highest representation of traffic crashes resulting in serious and fatal injuries to pedestrians and bicyclists.
From 2013 to the present, under Alert Today Florida, major pedestrian and bicycle safety-related engineering projects, educational outreach events, paid media advertisements, and High Visibility Enforcement (HVE) activities have been implemented statewide, especially in priority areas. Based on available official crash data, between 2016–2017 and 2015–2016, there was a 5.14 percent reduction in pedestrian and bicyclist fatalities, a 4.60 percent reduction in injuries, and a 3.88 percent reduction in crashes on selected high-crash corridors in the top 15 high priority counties where HVE operations and educational activities took place. A total of 18 lives were saved, and 324 injuries and 338 pedestrian and bicycle crashes were avoided. The estimated cost savings for Florida was more than $209 million.
"We are proud of accomplishments of the Alert Today Florida program," said L.K. Nandam, PE, Secretary of FDOT District 1. "This safety program has made a huge impact by educating pedestrians and bicyclists on safe crossing/bicycling practices. Alert Today Florida has also increased awareness in motorists of the importance of yielding to our vulnerable road users, and the high visibility enforcement campaign has helped to achieve this change. Great inroads in our communities have been made by the program's focus on education and enforcement."
Agency: Florida Department of Transportation (FDOT)
Project Contact: Trenda McPherson, State Bicycle/Pedestrian Safety Program Manager
Email: trenda.mcpherson@dot.state.fl.us
Phone: (850) 414-4025