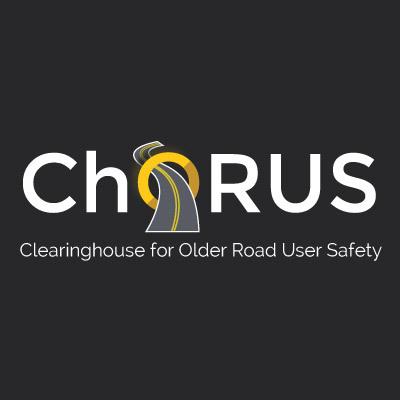 Amount: $100,000
Anticipated Start: Early Fall 2018
Duration: 3 months with potential for extensions
Application Deadline: August 31, with quick project turnaround needed
The Roadway Safety Foundation (RSF) has issued a Request for Proposals (RFP) for a professional communications consultant to assist with the growth and promotion of RSF's online Clearinghouse for Older Road User Safety (ChORUS). The successful respondent will serve as a subcontractor to RSF under a cooperative agreement with the Federal Highway Administration (FHWA); therefore, all work performed must comply with all Federal government guidelines pertaining to subcontractors.
Background
The Roadway Safety Foundation operates ChORUS (www.roadsafeseniors.org) as a one-stop resource for older drivers, their families and caregivers, policymakers, highway engineers, medical professionals, and others. The resource was developed with support from FHWA as well as the National Highway Traffic Safety Administration, both of which are interested in expanding the Clearinghouse and growing its audience. Although ChORUS had a "soft launch" in 2016, this RFP is intended to support efforts to greatly increase its exposure and impact.
The successful awardee will report to RSF's Executive Director, and collaborate on an ongoing basis with RSF's programs director. The awardee will also work closely with RSF's long-time IT developers, who have oversight of the ChORUS web environment and backend.
Deliverables
As ChORUS has already been developed and has been available to the public online for roughly 2 years, the deliverables for this RFP are related to expanding the user base, and identifying new materials to add to the site that will help attract and retain visitors. ChORUS has social media accounts with Facebook and Twitter, which the successful awardee will need to leverage, and also has a Blog. A panel of Subject Matter Experts (SMEs) has been involved with ChORUS from its inception, and will be available to the successful awardee to provide content-specific knowledge and guidance.
Respondents should provide a detailed proposal for addressing the following key deliverables:
Development of a communications and outreach plan, including audience segmentation and targeting strategies;
Coordination with RSF staff on content maintenance and regular updates to maximize the communications potential of the site;
Monitoring usage statistics and engagement and using benchmarks to increase these numbers; and
Executing on the plans developed, including innovative approaches for reaching the target audiences.
ChORUS was built around six distinct target audiences, and respondents should propose methods for reaching each (though not necessarily to the same extent):
Older road users (e.g., drivers, passengers, transit riders, bicyclists, motorcyclists, and pedestrians ages 65+);
Caregivers & loved ones of older road users;
Medical professionals;
Highway engineers/transportation officials;
Policymakers; and
Safety advocates/researchers
Application Instructions
Please submit responses to this RFP to info@roadwaysafety.org with subject line "ChORUS Communications RFP Submission." Only qualified applicants will be contacted to provide further expansion on their proposals.
Applications should be no longer than 7 pages, single-spaced, not including supporting graphics, tables, etc. Respondents should also submit a detailed budget for the $100,000 amount, a detailed timeline covering the first 3 months of work, and a general timeline for ongoing work proposed in the event that the project is extended.
The $100,000 budget must include the following breakdowns:
Labor: Names, labor categories, labor rates, total hours, Total Labor
Any proposed direct expenses with cost justification
Any additional costs
About the Sponsoring Organization
The Roadway Safety Foundation (RSF) is a 501(c)(3) non-profit charitable/educational organization that educates individuals, community leaders, the media, and state/local/tribal government officials about emerging road and roadside engineering improvements that reduce the severity of road crashes.